I'm happy to announce our brand new writing assistant for WordPress; Handywriter.
Handywriter is an AI-powered writing assistant that can help you create unique content effortlessly within WordPress. It's a great tool for WordPress users of all levels, from beginners to professionals.
All good inventions have a small story behind them, and it all started with this tweet:
Thirteen votes are not too meaningful for the Twitter poll; however, it would be something to make my life easier, and if it solves my problem, it can help others too. right?
~5 months later, Handywriter is a fully functional writing assistant.
How can Handywriter help you create better content?
AI-Powered writing tools are pretty popular nowadays and are here to stay for the foreseeable future. This is because AI can help improve the accuracy and quality of writing and can also help save time. Here are a few features of Handywriter that will save you time.
Suggest a Title
You didn't like the current title? Or looking for something more engaging? Handywriter will create new title suggestions.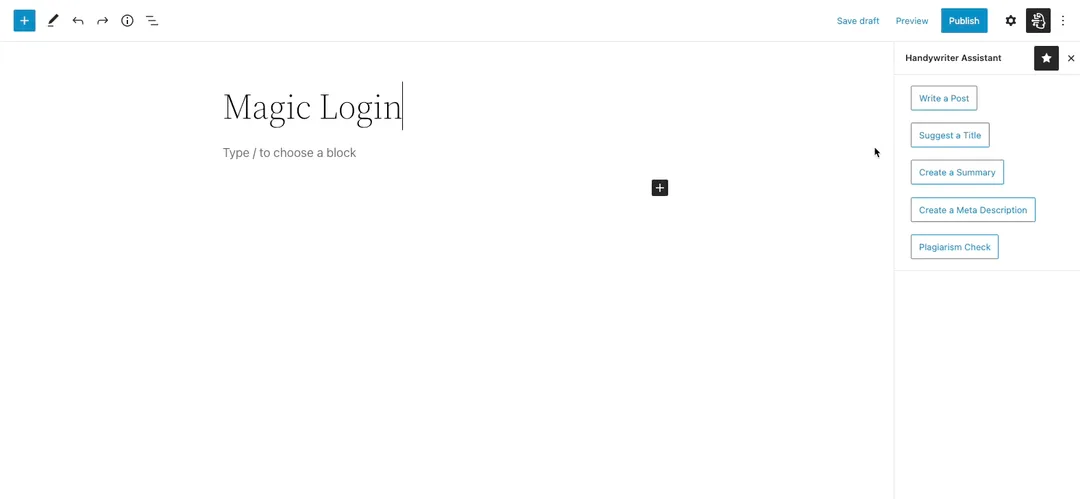 Write a Post
Click on the "Write a Post" button right after entering the post title. Handywriter will try its best to complete a blog post for you on a given topic. It is sort of Google's "I'm Feeling Lucky" button for content generation.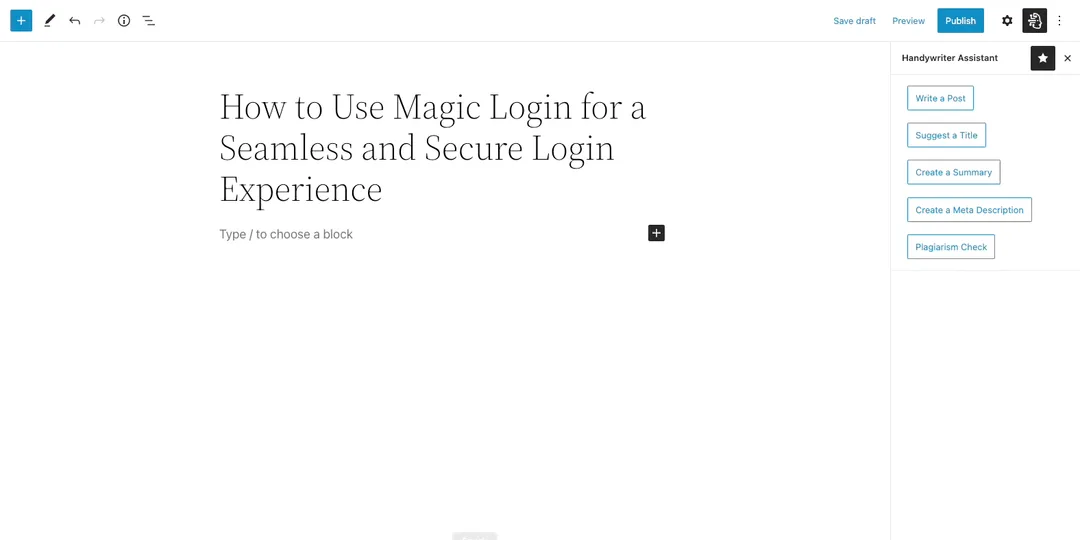 Create a Summary & Meta Description
Summarize your content and append it to the end of the blog post or get a meta description for SEO purposes.
Plagiarism Checker
Handywriter will help you to find any instances of plagiarism in your post so that you can fix them before publishing and be sure about the originality of the content.
Content Templates
Content templates are an excellent way to create content that you need on a regular basis quickly. Whether it's call-to-action buttons, ad copies, or case studies… they can save you time.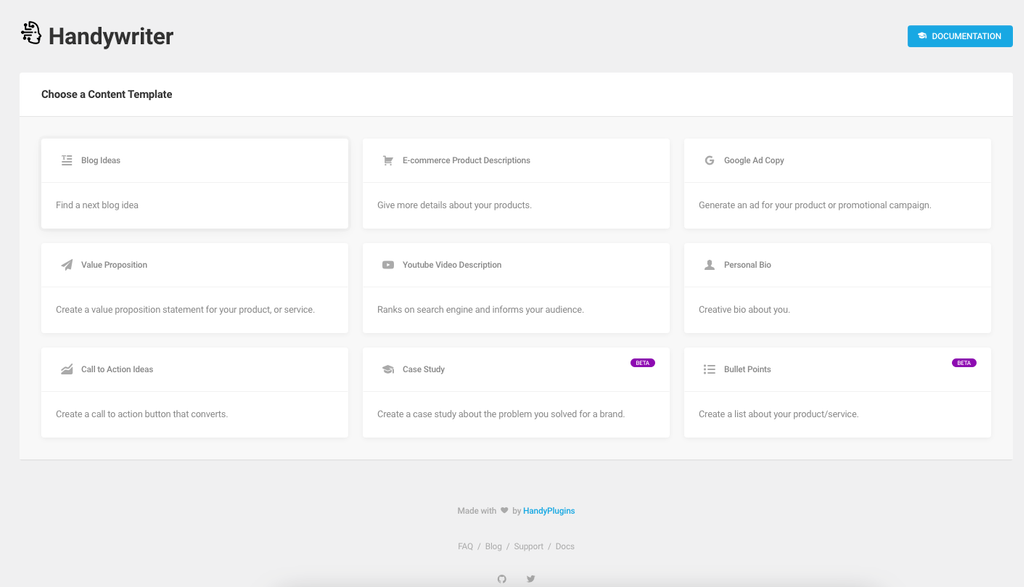 Check out the features page to learn more about all features.
What does Handywriter different?
Editor Integration
I think the biggest advantage of Handywriter is that it's directly integrated into WordPress editor. Whether you are using a block editor or a classic editor, it's there, and you don't have to leave your WordPress editor while working on new content.
It might be a small detail, and some users aren't get bothered to copy/paste content. However, it leads to distraction and poor writing experience. Handywriter aims to provide a "nativelike" WordPress experience while using it.
Promptless
AI-based content generators often ask for too many details. Sometimes the "actual" output is shorter than all the information you provided in the prompt.
On the other hand, Handywriter gets the needed data from the WordPress editor directly. Eg, if you click on the "Suggest a Title" button, it will directly suggest an engaging title based on the current title you are using.
Designed to Assist
It is designed to be an "assistant" and save your time while writing in WordPress explicitly. For instance, enter the next blog topic and hit on the "write a post" button. The final result might not be exactly what you want to see, but you can start editing existing content right away.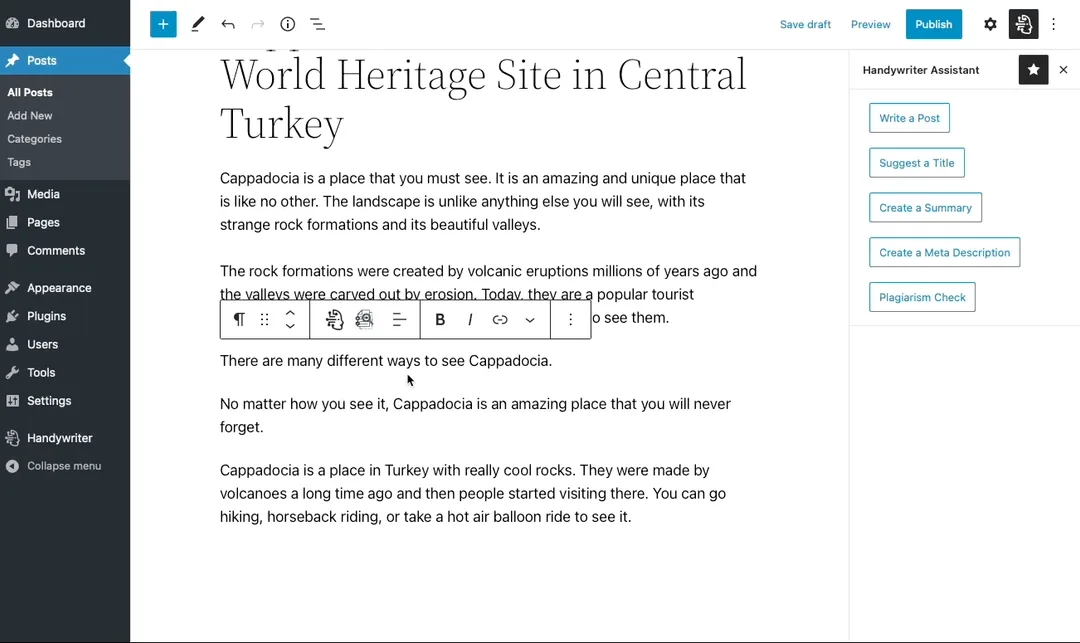 More Than AI…
Handywriter does not only help to create content. It also provides a grammar fixer and plagiarism checker to ensure that your content is original. (I have to admit that the grammar fixer is not powerful as Grammarly – yet – but it still helps to prevent obvious mistakes.)
If you're looking for a way to create better, faster, and effortless content for your website, Handywriter is the perfect solution. You can give it a try by choosing the best plan that suits you and then install & activate our WordPress plugin.