We are thrilled to announce the release of PaddlePress 2.1, a transformative update that brings cutting-edge features to your WordPress site, aimed at enhancing your monetization and billing capabilities.
Elevate Your Revenue Growth with ProfitWell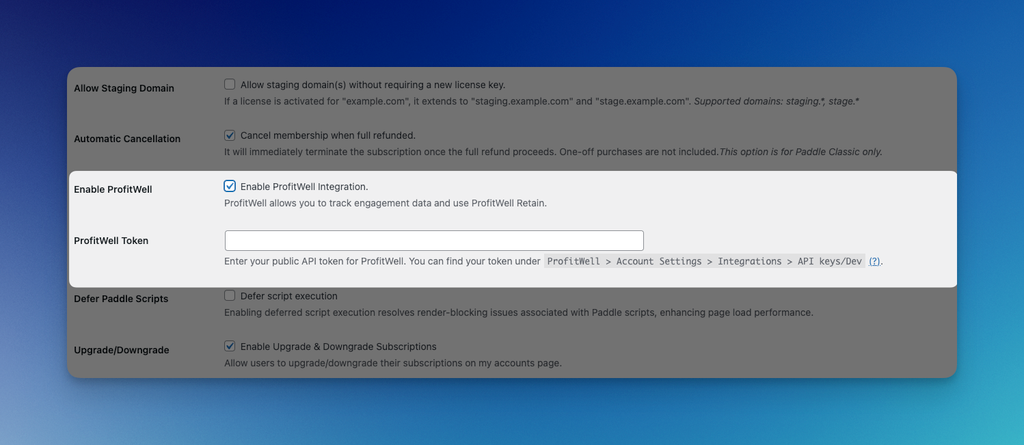 With the latest ProfitWell Integration, PaddlePress 2.1 empowers you to dramatically reduce churn and increase your subscription lifetime value. ProfitWell Retain® is renowned for its data-driven approach to subscription growth, and now it's fully integrated into the PaddlePress.
ProfitWell integration is perfect for subscription-based businesses looking to leverage ProfitWell Retain's® churn-fighting algorithms, helping retain more customers and increase subscription longevity. Track your financial metrics more accurately and make data-driven decisions to boost your revenue and reduce churn.
You can learn more about ProfitWell here.
Client-Side Token Support for Paddle Billing
To enhance the security and usability of PaddlePress for WordPress users, we have incorporated the newly introduced client-side tokens from Paddle. This means there's no longer a need to use your seller ID when setting up Paddle.js. Instead, you can now authenticate using a client-side token, which is designed specifically for front-end interactions on your WordPress site.
Paddle's latest update is already in effect, so PaddlePress users can benefit from these enhancements immediately as the Paddle.js served is the most recent version. (it only works for the Paddle Billing platform; Paddle Classic continues to work as the same before)
Learn more about client-side tokens.
Enhanced User Experience with New Shortcode Parameter
Customize your user's account page with ease. The new shortcode parameter allows you to hide the downloads or purchases tab based on your preference. For example, use ... hide="downloads" ] attribute to hide downloads tab on "my accounts" page.
You can learn more about "my accounts" page customizations. – https://handyplugins.co/paddlepress-pro/docs/customer-dashboard-my-account-page/
Bug Fix and Stability Improvements
We've squashed a bug causing a fatal type error that's now a thing of the past.
Stay up to date with the latest practices; we've also rolled out updates to dependencies ensuring improved plugin performance and compatibility.
Ready to Retain More Subscribers?
Upgrade to PaddlePress 2.1 today and take your WordPress subscription management to the next level. With ProfitWell Retain®, PaddlePress 2.1 is not just a plugin update—it's a step towards a more profitable future.